Posted on February 12, 2010 by Tim
Phil Ivey might really be the best in the world. He knows Jennifer Harman's range, he knows his jacks might be in trouble against her pre-flop range, he awaits the board, calls the turn to catch the 2barrel and folds the river. Excellent.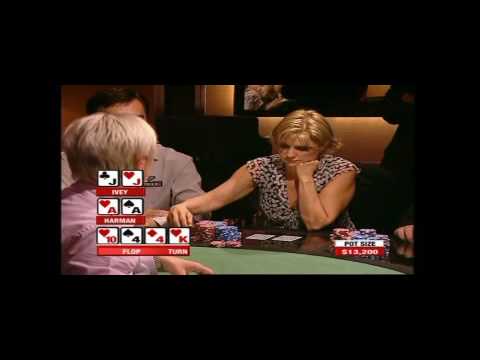 Here's a comment I fully agree with from the youtube page;
Harman/Ivey is fairly standard. she raises and cbets with AK, KQ + the obvious big pair, but he beats some of her range, and a call on the turn stops a 2 barrel and sets up river check/steal or check/value raise if she was light.
Its Howard "Prof" Lederer that amuses me. WTF is he doing calling an EP raise + a call with A rag? Not enough equity to make it profitable against a 8 handed EP range and if he thinks hes going to make up for it by outplaying those two postflop, he's delusional.